The satyanarayana, a pooja worshipping God Vishnu, the protector of the universe, during which the Satyanarayana Katha is read , with ritual lighting of lamps, aarti and prasad. 
The Grahapravesh pooja is a house blessing pooja preformed when you buy or build a  house. The pooja is done by invoking lord Ganesha with a Homam/Havan
Full Moon (Pournami) Pooja
The Pournami or full moon day is considered auspicious for new begginings, worshipping the god during this day is considered impactful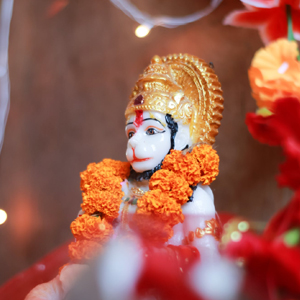 Lord hanuman is known for his strength and courage. Hanuman pooja is done invoking lord hanuman to bless us with the strength and courage to overcome any obstacles and bestow success in our ventures
Planets play a crucial role in the day to day choices we make. The navagraha pooja is done invoking the blessings of the planets. The pooja can be done before any major veture or new begginings
A pooja is a ritual seeking blessings of a god that is completed with an Aarti performed as a way of thanking the god for the prospereties bestowed. A Deity pooja can be done for any of the deities 
Vederambha Sansakar (Prayer to Begin Learning)
Vedarambam or Vidyarambam pooja is done each year before the students go back to school, it is best done within 10 days before school start or the first week of school. Lord Ganesha is invoked seeking blessings
Bhumi Poojan (Ground Breaking Prayer)
The ground breaking pooja is done before major constructions or renovation works are undertaken. It is a pooja seeking the blessings of Bhooma Devi and thanking her to be patient when we construct the building
Shanthi pooja is performed to dispel the effects caused by unfavourable planetary positions. The pooja is to appease the planets. It is generally performed before any big venture and before weddings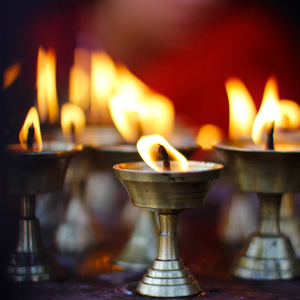 Birthday Pooja is done on the day of your birthday. Invoking your 'Ishta Deivam' or favourite good, the pooja is performed to seek the blessings of good for a long and prosperous life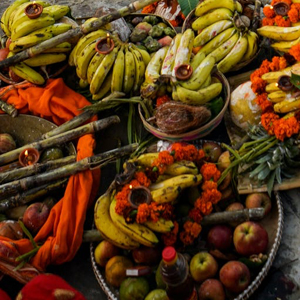 Any special occassion or pooja is enhanced by performing an archana, seeking the blessings of god
Satyanarayan Pooja
The satyanarayana, a pooja worshipping God Vishnu, the protector of the universe, during which the Satyanarayana Katha is read , with ritual lighting of lamps, aarti and prasad. 
Pooja Dates 2023
Fullmoon Pooja(Monthly) 7:00 PM – 8:00 PM (8:00 PM Aarti)
If you would like to sponsor the pooja, please contact temple on (503) 598-3073 and leave detail message.
| | | |
| --- | --- | --- |
| Oct 28th | Saturday | Ashwin Purnima |
| Nov 27th | Monday | Kartik Purnima |
| Dec 26th | Tuesday | Shri Dutta Jayanthi |
As a temple, our mission is to serve the spiritual needs of our community and provide a welcoming space for devotees to come together and worship.
If you're interested in performing a pooja or service at the temple, we encourage you to reach out to us. We're happy to help you arrange everything you need to make your experience meaningful and fulfilling. From booking a time for your pooja to providing all the necessary items, our team is here to support you.
Alternatively, if you would like to invite our priest to perform a pooja or service at your home or another location, we can also accommodate your request. Our priest is experienced in conducting poojas in various settings and is available to travel to locations in Portland, Oregon and nearby cities.
At the temple, we believe that spiritual practice is an important part of our daily lives, and we strive to make it accessible to everyone. Whether you're new to the practice or have been a devotee for years, we welcome you to join us and experience the power of worship.
Thank you for considering the temple for your spiritual needs. We look forward to hearing from you and serving you in the best possible way.